Head Scarves for Cancer Patients
Every woman deserves to feel confident and empowered.
Our Céline Martine headpieces are here for the good days: the birthdays, anniversaries, special occasions and milestones. But we're also here for the not-so-good days. We support those experiencing cancer treatment, hair thinning or hair loss. Sure, our headpieces won't radically change lives or circumstances. But we believe in making women feel beautiful, bold and empowered (even when they feel anything but).
We partner with Look Good Feel Better
Look Good Feel Better is a national community service program, run by the Cancer Patients Foundation.
They specialise in managing appearance-related side-effects caused by treatment for any type of cancer. At Celine Martine, we're proud to have our head scarves and wraps as one of the many options they suggest to make you feel better.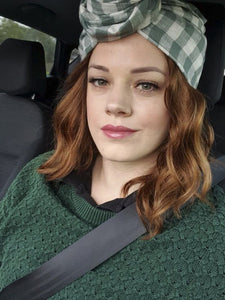 "When you're going through cancer you want to feel normal, or even look the best you can. So with the beautiful design, versatility and ease of use it's really a no-brainer.Especially when you have low energy days, you don't really want to spend too much time perfecting a look."
- Witney Oudendijk
Here's why so many women love our head scarves

Fashionable alternative to common turbans
Minimal styling and effort
Comfortable for long periods
Natural, breathable fabrics
Can be worn with or without a wig
Style in different ways as you move through your healing journey
Frequently Asked Questions
Do they slip and slide?
Our head scarves and head wraps are cleverly designed to stay in place. The headband has an elastic jersey band, while the head wrap has an inner wire.
Are the wires comfortable?
Our wires are concealed within the fabric for maximum comfort. They help you style the wrap to your liking, without touching the scalp.
Are your turbans breathable?
We select breathable and natural fabrics so you can feel your best. We can also make silk head scarves and wraps upon request.
Selection
Below is a selection of some of our most popular head wraps. Please reach out with any questions you might have about any head wrap.