Vintage Inspired Knotted Turban Tutorial
If you, like us, find tying a headwrap a tricky feat, you are in the right place.
All Céline Martine wired headwraps share a similar philosophy: the pieces look like scarfs or head wraps without actually having to tie a knot, allowing all of us who are inept in the art of tying a scarf in our hair, to feel comfortable and secure, whilst rockin' the style.
The headwear provides women a simple life #hairhack so that no day is a bad hair day.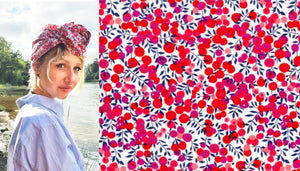 Transcript of video:
Let me show you a version of the knotted style turban.
First place the wrap on your head as usual, pull back the wings and bring them to the front.
Then, don' twist, but tie a regular knot, placing the knot on the black jersey.
It's a bit fiddly, but important to get right.
At this point, it's important to show some hair if this is the look you are going for.
Make sure you've the back "wing" to the back.Make a second knot.
And widen the fabric to get the wanted effect.
Tuck the two ends in the side folds.
Press firmly.
Mould the wrap and wires to get the perfect look.
Et voila!