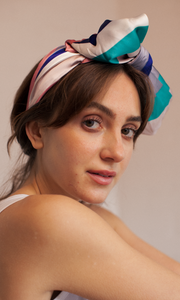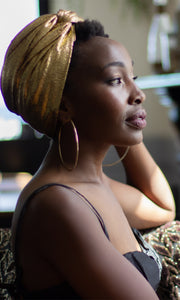 Welcome to the world of Céline Martine
Céline Martine is a collection of bold, original and effortless headpieces for all women.
With added wire, they're simple-to-style and luxuriously comfortable, so you can claim back your time and focus on what's important. 
Our headpieces are here for the good days. The birthdays, anniversaries and milestones. 
But they're also here for the not-so-good days. When hair washing is too much and a simple solution is needed.
Because we're dedicated to making women feel beautiful, bold and empowered - no matter what day they're facing.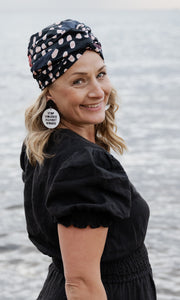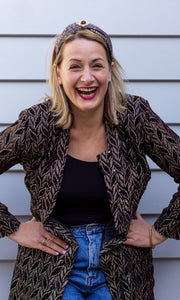 Meet Marion, founder of Céline Martine
Céline Martine founder, Marion Lecesne's passion for fabrics, colours, and patterns comes from her French "grandmères" Céline and Martine.
Born in Paris, her parents travelled across the globe when she was little. She returned to Melbourne 20 years later to raise her family. Intuitively, Marion played with scarfs and headbands from a very young age, trying to find easy-to-style and fashionable headwraps to adorn her hair.
"I stopped wearing headbands in the 80ies, when the plastic just hurt my head so much!"
After a marketing career at Nike Europe and non-profit YMCA Victoria, Marion left the corporate ladder to focus on Céline Martine. In 2017, we crafted our first turban headband with wire, and soon expanded the range with exclusive vintage scarf headpieces.
Today we are one of the leading headwear brands in Australia, catering to both fashion seekers and cancer patients, who are looking for an easy-to-style and stylish alternative to turbans.
We are built on an empowerment model.
The Makers
We partner with local seamstresses and work from our home studio in Frankston South
The Wearers
We're for all women. The loud women. The brave women. The shy women. The busy women. The powerful women. The exhausted women. The fighting women. The thriving women. The rebuilding women. The hopeful women. The still-finding-themselves women.
The Future
Finally, we help empower others by donating $2 per item sold to local organisations supporting Domestic Violence survivors.
The Planet
We also believe in doing our bit for the planet by using vintage, recycled fabrics and minimising plastic wherever possible.